MUDITA'S PLANS FOR 2020
WOW! What an incredible year we've had at Mudita Foundation. The progression we have seen in the last twelve months is simply unbelievable! And none of this would have been possible if it wasn't for you. We thank you from the bottom of our hearts, your Mudita Family.
This newsletter looks back on our 2019 goals and achievements before switching around to see what we have in store for 2020. It's not just a new year, but it's a new decade and we are propelling into next year with goals bigger than ever.
Make sure you are following our socials to keep up to date on our progress.
2019 JOURNEY …
Gardens & Pavillons
GARDENS & PAVILLIONS
Mudita Foundation's operations are influenced by Walldorf teachings and as a part of this our students have the opportunity to learn in many different ways. In 2019 we focused on using our beautiful Burmese environment and created garden space to grow vegetables, flowers and plants. We are utilising local materials such as bamboo and have created three bamboo pavilions for our students to learn in. Our grounds housed a concrete building from when we arrived here to set up Mudita Foundation and we painted it with bright and inspiring colours. We also integrated building and painting time into our lessons, so our students feel they have contributed to building their school and learned new skills during these projects. .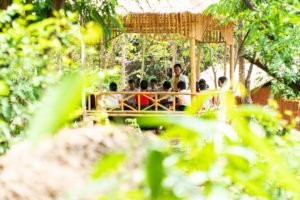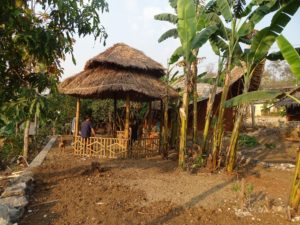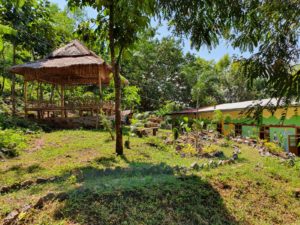 Cooking and eco classes
COOKING & ECO CLASSES
It's no secret that, there is nothing better than a fresh, organic green salad, served with delicious vegetables and topped with a spicy Burmese curry. YUM!
Not only does it get the taste buds tingling, but also the benefits of nutrients with home grown produce is second to none.
This is why we started our Eco Farm. We are able to grow organic healthy foods which in turn gives us the opportunity to include environmental topics in our education programme. The new school year in 2019 brought even the youngest students in Kindergarten, planting seeds to harvest vegetables. All students learned how to plant vegetables and plants in the Eco Farm along with the importance of recycling and looking after their environment. .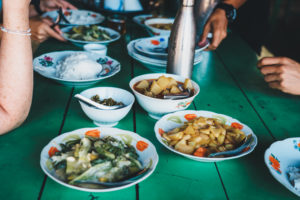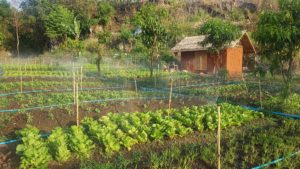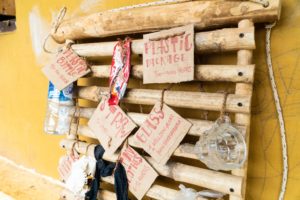 Handicraft and computer classes
HANDICRAFT & COMPUTER CLASSES
New to Mudita's curriculum is Handicraft and Computer lessons. Handicraft classes are held on Mondays by the local village bamboo master and the students absolutely LOVE IT! Computer class has daily slots for all grades and are taught by our technical volunteers.
A huge thanks to the ISY School in Yangon for providing us with computer equipment. Everyone should have the opportunity to learn basic computer skills, such as "how to use a mouse and keyboard" with advanced skills of using Microsoft and software for editing photography and cutting videos.
In our handcraft lessons, students are learning how to build furniture and souvenirs housed in the Bamboo Restaurant, using local materials, mainly bamboo and painting and decorating in Art Class.
We now have an office for all our volunteers to prepare their classes and research lesson plans for their upcoming timetables. We trust our volunteers to get creative and plan their own lessons with support from our local Burmese teachers.
… PLANS FOR THE NEW DECADE 2020
IMPROVE THE CURRICULUM
Our main priority towards the back end of 2019 has been to improve our education programme. We have made a great start by hiring local Burmese teachers and creating a more structured daily curriculum.
We use our feedback forms from our teachers and volunteers to improve our lesson plans. We improved the infrastructure of the Eco Farm thanks to our long standing volunteers.
Not only do we have a wonderful organised Eco Farm and future vegatable planning spreadsheet, but our students learn from the very beginning how to utilise nature and give them a deeper understanding of their environment.
MAINTENANCE AND BUILD
Did you know areas of our school has been standing for nearly two years? Thanks to the searing hot sun and heavy rainfalls, it's now time to replenish those areas and make enhancements to the buildings we have in place, such as the main concrete building we have split into five classrooms.
Our main focus is building new areas, replenish existing buildings with maintenance and start building projects, such as an open learning area behind our Art Classroom and a new bamboo hut for our new Burmese teachers. We also require new furniture and beds for accommodation so we have lined up the Bamboo Master for 2020 to source extra local materials for Handicraft classes. It's time to get creative here at Mudita, bring on the new decade, 2020 is going to be our biggest year yet! See you in the future ☺